Teamwork makes the dream work! When it comes to fostering camaraderie and boosting team spirit, Minneapolis offers a plethora of exciting and unique team-building activities. Whether you're aiming to strengthen bonds, improve communication, or just have some fun together, these activities are sure to deliver unforgettable experiences.

Tradition Re-imagined
Spoon and Stable aims to provide an incomparable dining experience that reimagines tradition. The private dining rooms are perfect for intimate dinners and private parties. Led by James Beard Award-winning Chef Gavin Kaysen, expect seasonal Midwest fare with local and French inspiration. A customized menu and unique cocktails make for a well-crafted experience.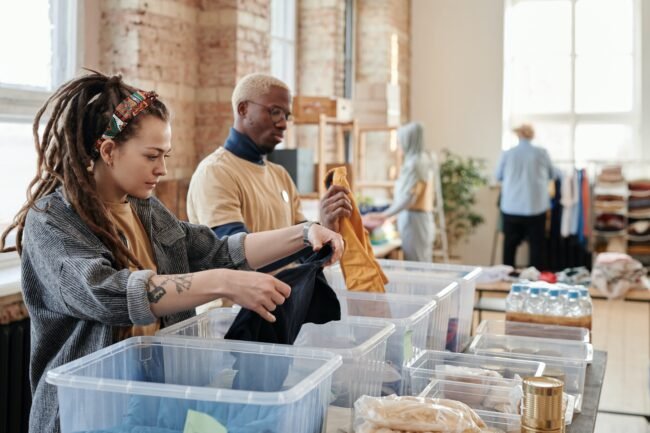 End Hunger Together
Give back as a team by volunteering at Second Harvest Heartland in Brooklyn Park, MN. Help sort and pack food, assist with the daily operations, and contribute to strategic projects. Volunteers play a crucial role in ending hunger. This team-building activity not only connects internal teams but also builds a better future for the greater community.

Swing into Fun
Experience immersive mini golf and craft cocktails at The Puttery. With three distinct courses, the art museum, library, and conservatory, it's a perfect setting for some friendly competition. It offers a mix of casual lounge space, immersive fun, and themed cocktails for each course, conveniently located in the North Loop. Digital scorecards make it an engaging 21+ team-building activity.

Future-Forward Immersion
Sandbox VR in Eden Prairie offers futuristic VR experiences for groups of up to 6 at a time. Step into exclusive worlds, transforming your real body into a virtual one. Hollywood motion capture technology and haptic suits create an unparalleled sense of immersion. Gather your team and take turns experiencing new worlds together.

Cocktail Crafting Fun
For those with a boozy affinity, a cocktail-making class at O'Shaughnessy makes for the perfect outing. Learn to craft whiskey cocktails like the Old Fashioned and Manhattan using their signature Keeper's Heart blended whiskies. Located in a historic, state-of-the-art building, it's a charming location to let loose with one another. If cocktail crafting isn't your thing, check out their tours and other tasting opportunities.

Comedy and Connection
Brave New Workshop Comedy Theatre, with its 58-year legacy, offers a night of original comedy, improv, and satire. Enjoy a main stage show, theater snacks, and local beer samples. After the show, engage in a private Q&A and autograph session with the performers. Laughter really is the best medicine!

Luxury at Target Field
Host your team in a private suite at Target Field during a Minnesota Twins game. Accommodating groups of up to 36 guests, it provides exclusive access to the Delta Sky360 Club and premium dining options. It's an ideal setting for business meetings or corporate entertainment events. Or, check out private rental opportunities at a Minnesota Wild, Timberwolves, Lynx or Saint Paul Saints game.

Party on the Lake
Take your team out of the office and onto the water with PaddleTap's Party boat tours on Lake Minnetonka. Enjoy a fantastic party cruise with tiki-themed boats accommodating up to 18 people. It's a unique way to bond with colleagues while exploring the beautiful lake.

Arcade Fun for Teams
A little competition never hurt anyone. Up-Down Minneapolis combines a variety of classic arcade games for some nostalgic fun. Ideal for team outings, this casual hang out offers over 50 arcade games, pinball machines, skee-ball alleys, and more. Enjoy immersive entertainment, and don't forget to try their house-made pizza, yum!

Swing into Team Building
Topgolf, located in Brooklyn Center, offers climate-controlled hitting bays with HDTVs, making it a year-round entertainment destination. Compete in games, enjoy rooftop terraces, and savor bar and restaurant offerings. Plan a team-building event that's a hole-in-one.

Escape and Bond
Breakout Games, the #1 Escape Room in Minneapolis, offers thrilling escape rooms with various themes. Challenge your team's problem-solving skills and collaboration as you work together to escape. It's an excellent way to build communication and teamwork.
In Minneapolis, team building becomes an adventure. Choose from these exciting activities to bring your team closer, foster better communication, and create lasting memories together. Whether you're solving puzzles, exploring virtual worlds, or dining in style, these activities will strengthen bonds and inspire collaboration.
Looking for something more tailored to your team? Partner with BeEvents. Over the past fifteen years, we have orchestrated numerous company gatherings to rally teams and strengthen culture. Check out what we did for the teams at Boston Scientific and Children's Minnesota. Connect with us to take your team-building experience to the next level.