Looking for the perfect venue to host your next corporate event in Minneapolis? Look no further! We've compiled a list of 10 unique venues that offer everything from historic charm to modern elegance. Whether you're planning a small gathering or a large conference, these venues have you covered.
A Green Oasis in Saint Paul
Located in Lowertown Saint Paul, CHS Field is not just a ballpark, but an eco-friendly masterpiece. With innovative water conservation measures and renewable solar energy, this venue stands out as a great sustainable option. The open field ballpark is perfect for creative event designs and large-scale gatherings, while the indoor Securian Financial Club provides stunning views of downtown Minneapolis. Plus, you'll love the convenience of location for your guests.
Design Perspective:
The staff's dedication and the spaciousness of the venue make it perfect for large employee events. The venue has a roster of lively "usher-tainers" who add a touch of fun to any occasion. Our experience at CHS Field with the Children's Summer Social in 2023 was incredibly successful, thanks to the vast design possibilities of the space.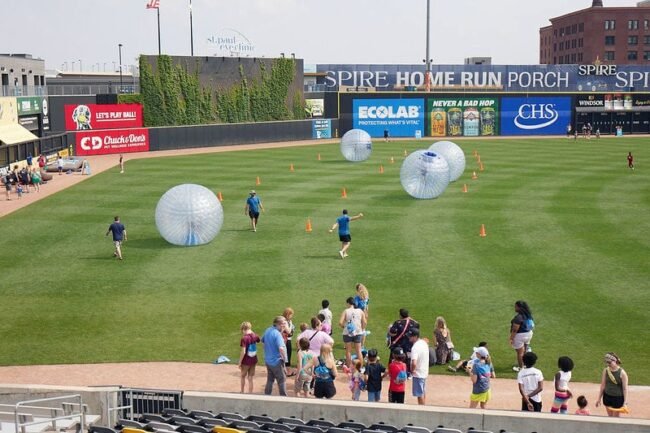 Where History Meets Skyline Views
The Dayton's Project seamlessly blends historic charm with modern elegance. Located in the Central Business District of Minneapolis, this venue boasts a rooftop terrace with unbeatable skyline views. It's a perfect spot for intimate gatherings under 150 people. The attention to detail and fresh architecture makes this venue stand out as trendy and welcoming. The perfect location to impress your VIPs. 
Design Perspective:
The stunning terrace stole our hearts, and we find it ideal for creating a cozy atmosphere for our clients. The venue's unique blend of history and contemporary design adds a touch of sophistication to any event.
Unmatched Elegance in Eagan
For exceptional meeting spaces in Eagan, Omni Viking Lakes stands out. With multiple meeting rooms, versatile ballrooms, outdoor terraces, and cutting-edge AV technology, it's designed for your success. This venue beautifully blends American-Nordic and Viking elements. 
Design Perspective:
The abundance of free parking and the unconventional conference atmosphere make it a standout choice. The creative catering team is flexible and dynamic, consistently going above and beyond to craft unique dining experiences customized to your needs. Omni Viking Lakes caters to diverse event needs seamlessly, this is showcased perfectly in our Ideas Annual Conference in 2021.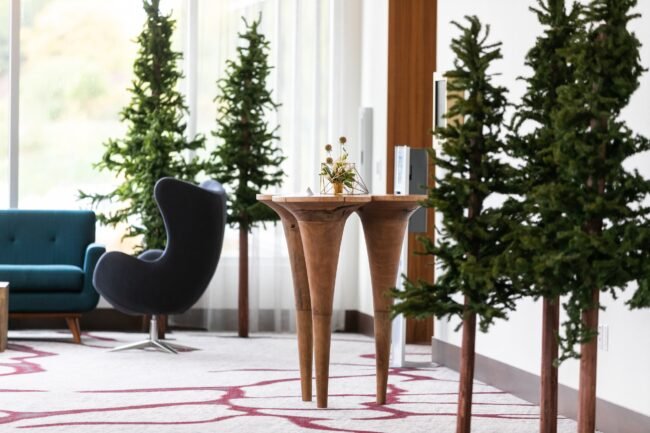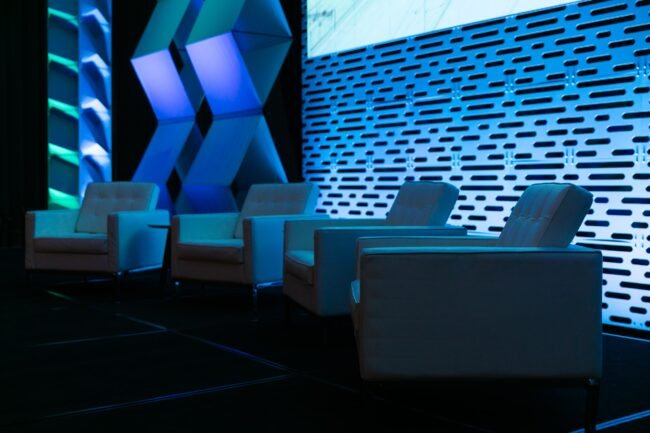 Where History and Modernity Coalesce
Mill City Museum is a testament to architectural brilliance, seamlessly combining historic remnants with industrial elements. The exposed brick walls and outdoor courtyard create a perfect blend of past and present, accommodating up to 500 guests. The venue's proximity to the Mississippi River offers a serene backdrop to any corporate gathering.
Design Perspective:
The historically relevant setting and the picturesque riverfront views make Mill City Museum an unforgettable venue. It doesn't take much for this space to truly shine by utilizing the charming exposed brickwork as a captivating backdrop.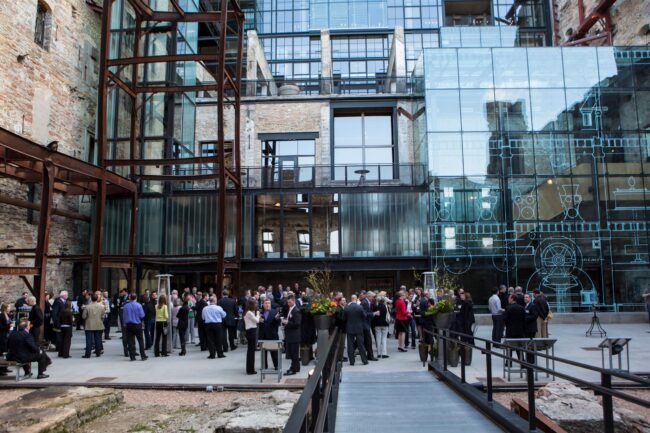 For the Ultimate Fan Experience
The Minnesota Vikings Museum is a haven for football enthusiasts. Showcasing the team's evolution and achievements, it's a unique venue for reception-style events and cocktail parties. It is far more than just an event space; it's a homage to the spirit of football. SKOL!
Design Perspective:
The distinctive environment creates a vibrant atmosphere for engaging corporate events. This venue is tailor-made for gatherings where sports enthusiasts can immerse themselves in the ultimate fan experience.
Artistry and Elegance Intersect
Immerse your attendees in arts and culture. MIA offers a modern twist on a classic setting, boasting versatile indoor and outdoor event spaces with stunning views of downtown Minneapolis. The fine art collection and architecture create an awe-inspiring backdrop for weddings, work parties, and more. The architecture that speaks for itself, reducing the need for elaborate decorations.
Design Perspective:
MIA's charm lies in its stunning architecture and minimalistic beauty. Our experience with the 2022 MIA Gala showcased how effortlessly this venue elevates any event. Plus, the abundance of available infrastructure drastically reduces the need for external rentals.
Harmonious Venue for Unforgettable Events
Orchestra Hall provides a harmonious backdrop for conferences, seminars, and performances. With customizable spaces and convenient access, it's a versatile choice for various events. Our fondness for this venue stems from its downtown location, making it easily accessible for attendees staying in nearby hotels.
Design Perspective:
The architectural beauty and flexible spaces make Orchestra Hall a top pick. Our involvement in the 2022 Symphony Ball highlighted the venue's multi-level layout, providing ample room for creativity and engagement.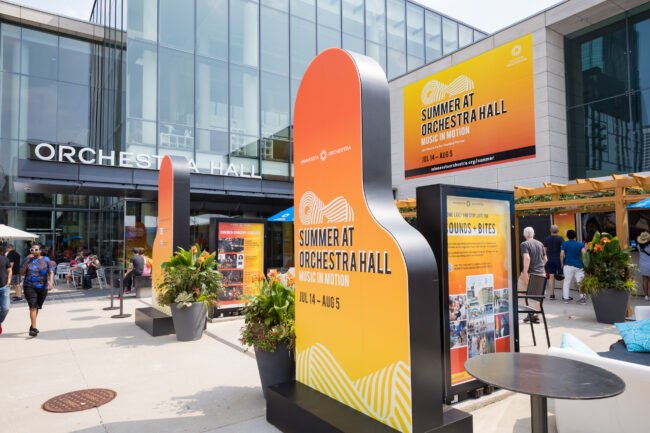 Where Rock and Elegance Collide
Rock meets elegance at The Fillmore Minneapolis, featuring a music hall, VIP lounge, restaurant, and more. State-of-the-art production, lighting, and sound ensure an unforgettable experience for your corporate event or private concert. The built-in sound and lighting significantly enhances any event experience.
Design Perspective:
The venue's music scene vibe and A/V infrastructure make it perfect for any type of performance or speaker. Our participation in Opera 2023 showcased how The Fillmore's ambiance transforms events into extraordinary experiences.
Creative Oasis in Northeast Arts District
International Market Square is an expansive canvas for large events, offering up to 50,000 square feet of meeting and banquet space. This historic landmark, and design center, has an artistic atmosphere and historic charm make it an unforgettable choice. Our affection for this venue comes from its non-traditional vibe and unique creative ambiance.
Design Perspective:
IMS's unique vibe and creative environment resonate with our agency's innovative spirit. Our experience with events here demonstrated that its industrial aesthetic and spaciousness can be transformed into immersive experiences that captivate attendees.
Northeast Arts District Gem
Nestled in the vibrant Northeast Art District, Quincy Hall exudes industrial charm with 40-foot ceilings and an open concept. This venue can accommodate groups of 150+ attendees for seated dinners or cocktail receptions. Its connection to Earl Giles distillery and nearby attractions make it an enticing choice. With its unique neighborhood vibe, it's a perfect choice for a memorable event.
Design Perspective:
Quincy Hall's industrial aesthetic, spacious footprint, upstairs loft, and outdoor space with gas fire features and bistro lighting create a charming ambiance. This venue's versatile layout can be transformed into an alluring event space, with ample room for post-event celebrations. Check out the RBC Corporate Gathering at Quincy Hall.
There you have it! Ten unique venues in and around Minneapolis, each with its own distinctive features and qualities. Whether you're seeking eco-friendly features, historic allure, modern elegance, stunning views or creative atmospheres, Minneapolis has it all. 
Are you planning a corporate event or meeting in the area? BeEvents is your ultimate Minneapolis destination partner, specializing in strategy, design, and activation of exceptional events. As local experts, we ensure that your event is a remarkable experience that will surpass expectations.